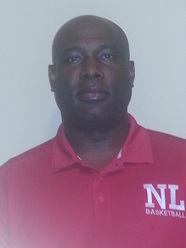 Carlos Bryson is from Laurens, SC where he had the privilege of learning to play winning basketball  under the tutelage of head coach Mark Freeze.  Coach Freeze's staple was a hard nosed man to man defense coupled with a motion offense that focused on ball and player movement.  Under Coach Freeze and Joe Walker, coach Bryson was a three year starter on the Boy's Varsity team reaching two Upper State Championships.  He was a top player in Region II 4 A as well as the state of SC.  Coach Bryson learned to deal with adversity at an early age, suffering a major knee injury which placed a lot of potential scholarships on the shelf.  With an unbelievable amount of determination and a strong belief and support system, Coach Bryson was able to earn a scholarship at the University of SC-Spartanburg, now the University of SC-Upstate, where he played all 4 years for SC Hall of Fame Coach Jerry Waters and his infamous 1-3-1 full and half court press, also know an 50Z.  Coach Bryson graduated in 4 years with a Bachelor's Degree in Business Management from the University of SC-Upstate.  He has spent 17+ years in a leadership role serving hundreds of employees and thousands of customers while successfully growing businesses nationally.

Notable career achievements for Coach Bryson include:
1,000+ career points
Ranked Top 10 in School History(USC-Upstate) in Games Started, Rebounds, and Steals
All PeachBelt Tournament Team
Team Most Valuable Player
1997 USC-Upstate Co Student-Athlete of the Year
Upon graduating Coach Bryson has served in leadership roles managing workforces of approximately 300+ employees, billion dollar portfolios, and most noticeably serving hundreds of thousands customers in the Financial Services market for private organizations and Fortune 50 companies alike.

Because of his children, he has renewed his love for the game of basketball and all it has to offer.